Welcome to Projector Hire
Projector Hire is a Cork based Audio and Visual Hire Company which specialize in supplying top quality projectors and PA Systems to businesses and individuals all over Cork city and county. We also have an office in Limerick. As our company has expanded over the last few years, projectors and PA systems have serviced Meetings, Presentations, Training Sessions, Exhibitions, Awards Ceremonies, Weddings and Private Parties.
The hire process is straight forward. Send an email to info@projectorhire.ie with your details and what equipment you wish to hire and we will send you on our prices. After booking is confirmed an invoice will be sent to you regarding the cost of hiring our equipment. As part of our company policy a security deposit is required on delivery of the equipment. This security deposit is fully refundable when the equipment is collected and is in full working order.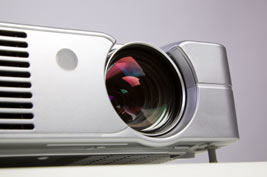 Reasons to Choose Projector Hire Cork:
Firstly all our projectors and PA systems are checked and tested before every hire. This insures that all our equipment is in full working order and you wont have to worry about bulb failure or a blown speaker or any other problems associated with projectors and PA systems.
Secondly all our projectors and PA systems come with manuals and are user friendly. On delivery of a projector and PA system a technical staff member will demonstrate how to use the equipment. Our company is always happy to help our customers and if you have any problems on the day of rental you can call us on 0879850714.
Projector Hire have a wide range of top quality projectors to cater for any event including Presentations, Training Sessions, Exhibitions, Awards Ceremonies, Weddings and Private Parties
We are the cheapest Audio and Visual Hire Company in Cork and Limerick and we have the best daily rates for projector hire and PA systems.
All our projectors have standard VGA connections and can be connected to all modern laptops, DVD players and VCR's